Westport
The port town of Westport is the main town in the north of the West Coast on the South Island of New Zealand. Originally a gold mining town it is now coal mining that keeps the town growing. There are plenty of outdoor activities to do in Westport. Visit the fur seal colony at Cape Foulwind, go caving, rafting or jet boating on the Buller River. If adventure is not for you then take a step back in time at the Coaltown Museum in Westport and see what the town used to be like. more
Westport has everything... surfing, beaches, great fishing, mountain biking, hiking, ,hunting, a network of great art and artists, waterfalls and more. Helicopter tours can take you to untouched parts of the region that people rarely get to see... adventure awaits in Westport.
Westport Directory Information
Please choose from the main accommodation, attractions, tours, transport or visitor information categories below for Westport, West Coast, New Zealand.
Find By
Where Do You Want To Go?
This New Zealand map does not display any listings on the map itself but may provide navigation by clicking on map symbol. Alternatively select a category or a region from the main links to find and view tourism businesses.
View 3 events near West Coast - Westport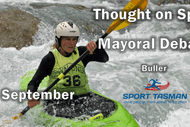 Buller Thought On Sport Mayoral Debate
Wed 25th Sep 2019
Buller Mayoral candidates are Invited to speak about the importance of sport at a public meeting. Limited space so get your free ticket on Eventbrite. If you have a question you would like to ask the candidates, ...
Where: Westport Bridge Club Rooms, Westport, Buller
Address: Lyndhurst Street, Westport, Buller
From: 7:00pm on Wednesday 25th September 2019
To: 7:30pm on Wednesday 25th September 2019
Harp Meditation and Intuitive Development Retreat
From: Fri 27th Sep 2019
Sounds of the harp interwoven with words and intention will take you on a journey within yourself, where you can safely explore. Deep healing results from the merging of Soul and Body and the deeper insights this ...
Where: Kawatiri Yoga Collective, Westport, West Coast
Address: 122 Palmerston Street
From: 7:00pm on Friday 27th September 2019
To: 5:00pm on Saturday 28th September 2019
Mel Parsons
Fri 25th Oct 2019
Needing little introduction on these shores, award-winning singer songwriter Mel Parsons is hitting the road with her new album 'Glass Heart' for an intimate solo tour of some her favourite New Zealand venues. ...
Where: NBS Theatre, Westport, Buller
Address: 105 Palmerston St, Westport, Buller
From: 8:00pm on Friday 25th October 2019
To: 11:59pm on Friday 25th October 2019