Waimauku
Waimauku is a small rural town north of Auckland but still located within the city limits. Waimauku is a peaceful area of rolling green hills and beautiful farmland. To the west it borders the stunning black sand Muriwai Beaches - which are very popular for surfing, sunbathing and swimming. more
Waimauku is nestled in amongst vineyards and offers a range of must-do wine tasting tours.
Take a moment to send an Auckland related E-Postcard to your friends.
Find By
What Do You Want To Do?
Mobile-friendly - Two One Six at Muriwai Beach delivers a unique, stylish luxury accommodation experience at Auckland's West Coast. Boasting two superbly appointed, self-contained suites, this stunning property offers absolute comfort, five-star service and unforgettable views up Muriwai Beach and across the Tasman Sea.

Mobile-friendly - Choose from hundreds of tracks and trails across New Zealand to walk, cycle, horse ride or more! Maps, photos, descriptions and all the information you need to find your next adventure, wherever you are. The NZ Walking Access Commission is the government's expert agency on public access to the outdoors.

Located in Auckland's Ararimu Valley surrounded by our Waimauku vineyard. Beautiful, tranquil grounds, giant chess, petanque court, lily pond and terraced seating overlooking the vineyard. Wine & Cheese Tasting. The perfect place to enjoy our award-winning wines. Ideal wedding destination.
Where Do You Want To Go?
This New Zealand map does not display any listings on the map itself but may provide navigation by clicking on map symbol. Alternatively select a category or a region from the main links to find and view tourism businesses.
View 2 events near Auckland - Waimauku
The Grape vs Grain 2019 Showdown
Sat 3rd Aug 2019
Join The Hunting Lodge & Liberty Brewing as they enter the ring again for Round Two of the Ultimate Grape vs Grain Showdown! Be entertained by our MC TeKohe Tuhaka and our award winning hosts; Pete Turner (The Hunting ...
Where: The Hunting Lodge, Waimauku, Auckland
Address: 307 Waikoukou Valley Rd, Waimauku, Auckland
From: 5:30pm on Saturday 3rd August 2019
To: 11:00pm on Saturday 3rd August 2019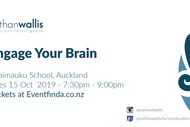 Engage Your Brain - Waimauku
Tue 15th Oct 2019
This talk focuses on the social/emotional aspects of your brain development – how feeling impacts our thinking. While the times that this brain really has the steering wheel is 2-8 and again in the middle of ...
Where: Waimauku School, Waimauku, Auckland
Address: 2 Muriwai Rd, Waimauku, Auckland
From: 7:30pm on Tuesday 15th October 2019
To: 9:00pm on Tuesday 15th October 2019