Richmond
Richmond is an urban centre in Tasman District servicing the surrounding large rural population. Visitors based in Richmond can access cycle trails, wineries, craft breweries, art galleries, gardens and the district's three national parks easily as they are all within just over an hour's drive from Richmond. Start of Tasman's Great Taste Cycle Trail, mountain-bike in the Mt Richmond Ranges or visit the alpine village of St Arnaud and Rainbow Ski Field.
Find By
What Do You Want To Do?
Mobile-friendly - Best car hire deals in Nelson. Rental cars from $30 a day. Accommodation and car hire package available. We promise to give you the best experience with a rental company you've ever had. We will provide you with a reliable, safe, modern vehicle whether you need a small car or a large 7 seat van. We serve the South Island.

Mobile-friendly - Perfectly positioned, Parkside Motel in Richmond is at the gateway to Nelson/Tasman Region's attractions. Abel Tasman, Nelson Lakes and access to the cycle trail virtually on the doorstep. King or queen-size beds Access and spa bath options. Most rooms have views over the adjoining park to the Mount Arthur ranges.

It's fast, it's furious, it's family entertainment and it's at a track near you. Fast paced racing, huge hits, bikes with no brakes, demolition derby's, fireworks - Speedway in NZ is an action packed event for everyone! With 24 race tracks across the country - enjoy the exhilaration that only Speedway provides, throughout the summer season (Oct-April).
Where Do You Want To Go?
This New Zealand map does not display any listings on the map itself but may provide navigation by clicking on map symbol. Alternatively select a category or a region from the main links to find and view tourism businesses.
View 121 events near Nelson - Richmond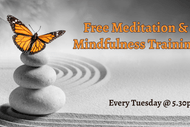 Meditation & Mindfulness Training
From: Tue 8th Jan 2019
Discover the scientifically proven benefits of meditation and mindfulness… - Reduce stress levels - Manage your emotions better - Improve heart health - Increase general well-being and happiness - Improve your ...
Where: Nelson Buddhist Centre, Nelson, Nelson / Tasman
Address: 87 Nile St, Nelson, Nelson / Tasman
From: 5:30pm on Tuesday 8th January 2019
To: 6:15pm on Tuesday 2nd April 2019
8-week Salsa Course - Beginner
From: Tue 19th Feb 2019
Salsa has been sweeping the world by storm for a few decades now! Come learn this fun & addictive partner dance, discover the world of Latin dancing, and I guarantee you'll wonder how you went on without it before! ...
Where: Trafalgar Hall, Nelson, Nelson / Tasman
Address: 67 Trafalgar St, Nelson, Nelson / Tasman
From: 7:30pm on Tuesday 19th February 2019
To: 8:30pm on Tuesday 9th April 2019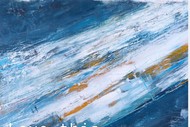 Love This...
From: Fri 1st Mar 2019
Ex-detective, turned full time artist ,Brenda Knight, will be exhibiting a series of new paintings in her latest exhibition 'Love this...' You are warmly invited to attend the Opening on Friday, 1st March 5.30. - ...
Where: Red Art Gallery, Nelson, Nelson / Tasman
Address: 1 Bridge St, Nelson, Nelson / Tasman
From: 5:30pm on Friday 1st March 2019
To: 2:30pm on Saturday 23rd March 2019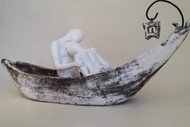 Sculpture Ceramic Classes
From: Tue 26th Feb 2019
Vicki Charles Sculpture. 10 week sculpture course. Bring in a photo of what you would like to make and l will assist you with sculpture techniques to create your piece. $75 for a 10 week course. Clay 6kg - ...
Where: NMIT Nelson Campus, Nelson, Nelson / Tasman
Address: 322 Hardy St, Nelson, Nelson / Tasman
From: 6:30pm on Tuesday 26th February 2019
To: 9:00pm on Tuesday 30th April 2019
Life Before Dinosaurs: Permian Monsters
From: Wed 26th Dec 2018
Step back in time 290 million years when bizarre-looking animals dominated life on land and sea, and find out about the greatest extinction the world has ever seen in 'Permian Monsters: Life before the Dinosaurs'. ...
Where: The Nelson Provincial Museum, Nelson, Nelson / Tasman
Address: Cnr Hardy & Trafalgar Sts, Nelson, Nelson / Tasman
From: 10:00am on Wednesday 26th December 2018
To: 4:30pm on Saturday 6th April 2019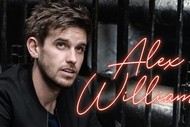 Alex Williamson: CANCELLED
Wed 20th Mar 2019
Best known to his fans for his 'Loosest Aussie Bloke' and 'Bogan Aussie' characters that reach over 2.5 million of his social media followers, Alex has performed a phenomenal number of shows to a prodigious ...
Where: Theatre Royal Nelson, Nelson, Nelson / Tasman
Address: 78 Rutherford St, Nelson, Nelson / Tasman
From: 7:30pm on Wednesday 20th March 2019
To: 11:59pm on Wednesday 20th March 2019
Eddyline 5k Series
From: Wed 7th Nov 2018
Fun 5k Run & Walk event. Registration from 5:30pm at end of Champion Rd by entrance to Richmond Aquatic Centre Briefing 5:50pm, Walkers start 6:05pm, Runners start 6:15pm. Alternating between different 3 courses. ...
Where: Eddyline Brewery, Nelson, Nelson / Tasman
Address: 8 Champion Road, Richmond, Nelson, Nelson / Tasman
From: 6:00pm on Wednesday 7th November 2018
To: 7:30pm on Wednesday 27th March 2019
Nelson Farmers Market
From: Wed 6th Mar 2019
Every Wednesday Rain or Shine the Farmers Market comes to Kirby Lane bringing you local fresh produce and products from all over the top of the south region. Come down have lunch and sample some incredible deals and ...
Where: Kirby Lane, Nelson, Nelson / Tasman
Address: 105 Bridge Street, Nelson, Nelson / Tasman
From: 8:30am on Wednesday 6th March 2019
To: 1:30pm on Wednesday 26th February 2020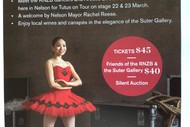 Reception for The Royal New Zealand Ballet
Thu 21st Mar 2019
Meet the RNZB dancers and Artistic Director, Patricia Barker, in Nelson for Tutus on Tour, with a warm welcome by Nelson Mayor Rachel Reese. Enjoy local wines and canapes in the elegance of the Suter Gallery. All ...
Where: The Suter Art Gallery Te Aratoi o Whakatu, Nelson, Nelson / Tasman
Address: 208 Bridge St, Nelson, Nelson / Tasman
From: 5:30pm on Thursday 21st March 2019
To: 7:30pm on Thursday 21st March 2019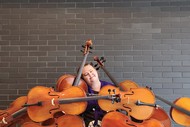 Allison Cormack - Sequestrado por Oito Violoncelos
Thu 21st Mar 2019
Abducted by an orchestra of cellos, Allison Cormack returns to the NCMA stage to perform Villa Lobos's celebrated 'Bachianas Brasilieras' for soprano and eight celli. In case things go wrong, the cellos have ...
Where: Nelson Centre of Musical Arts, Nelson, Nelson / Tasman
Address: 48 Nile St, Nelson, Nelson / Tasman
From: 1:00pm on Thursday 21st March 2019
To: 11:59pm on Thursday 21st March 2019