Roxburgh
Roxburgh lies along the Clutha river in the beautiful Teviot Valley of Central Otago, New Zealand. Surrounded by orchards, beautiful Roxburgh offers a range of historic attractions. more
Take a moment to send an Otago related E-Postcard to your friends.
Roxburgh Directory Information
Please choose from the main accommodation, attractions, tours, transport or visitor information categories below for Roxburgh, Central Otago, New Zealand.
Find By
Where Do You Want To Go?
This New Zealand map does not display any listings on the map itself but may provide navigation by clicking on map symbol. Alternatively select a category or a region from the main links to find and view tourism businesses.
View 1 events near Roxburgh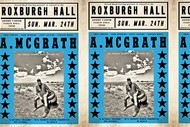 Adam McGrath - Ragged Ramble Tour: POSTPONED
Sun 24th Mar 2019
Adam McGrath, Lead singer and songwriter from mythical mongrel Christchurch folk/country band The Eastern, returns again to the state highways and byways of these long isles as part of his Autumn 'Ragged Ramble' ...
Where: Roxburgh Town Hall, Roxburgh, Central Otago
Address: Scotland St, Roxburgh, Central Otago
From: 7:00pm on Sunday 24th March 2019
To: 11:59pm on Sunday 24th March 2019