Tokoroa
Tokoroa is the third largest town in the Waikato region. Surrounded by thousands of acres of pine plantations, Tokoroa is just a short distance from both Taupo and Rotorua. more
Tokoroa Directory Information
Please choose from the main accommodation, attractions, tours, transport or visitor information categories below for Tokoroa, Waikato, New Zealand.
Find By
What Do You Want To Do?
Where Do You Want To Go?
This New Zealand map does not display any listings on the map itself but may provide navigation by clicking on map symbol. Alternatively select a category or a region from the main links to find and view tourism businesses.
View 2 events near Waikato - Tokoroa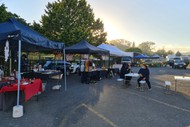 Tokoroa Market
From: Sat 7th May 2022
Our market was established over 15 years ago and we have a fresh fruit and vegetable truck, organic locally grown produce, fresh baking, indoor/outdoor plants, herbs, pure wool knitting, gift sets, flowers, handmade ...
Where: Tokoroa RSA, Tokoroa, South Waikato
Address: 36 Chambers St, Tokoroa, South Waikato
From: 8:00am on Saturday 7th May 2022
To: 12:00pm on Saturday 24th December 2022
Iron Fist 13 Gofox Electrical and Plumbing Fight Night
Fri 9th Dec 2022
NJE Promotions presents Iron Fist 13 Gofox Electrical and plumbing & Gym Fifty Six South Waikato Fight Night. Coming to you from Tokoroa Event Centre for the first time. Featuring Eugene Amohia in his professional ...
Where: Tokoroa Event Centre, Tokoroa, South Waikato
Address: 23 Mossip Road, Tokoroa, South Waikato
From: 5:00pm on Friday 9th December 2022
To: 11:00pm on Friday 9th December 2022