Puhoi
Puhoi is a small historic village located on the beautiful Puhoi River, approximately 50km to the north of Auckland. The larger Puhoi region is a stunning rural area of rolling green hills, forests and coastlines within Auckland city limits. Puhoi can be translated as 'slow water', which probably refers to the tide coming all the way up the river from the sea. more
Puhoi, gateway to the Matakana Coast, is still a vibrant town today and is home to a church, hotel, general store, museum and a range of specialty shops.
Find By
What Do You Want To Do?
Where Do You Want To Go?
This New Zealand map does not display any listings on the map itself but may provide navigation by clicking on map symbol. Alternatively select a category or a region from the main links to find and view tourism businesses.
View 1 events near Auckland - Puhoi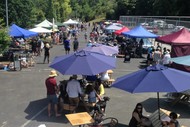 Puhoi Village Market
Sun 31st Mar 2019
Located in the heart of Historic Puhoi Village, 35 minutes from Auckland City, this quirky and relaxed market is a friendly affair, a place to support our local community, socialize, and listen to live music. This ...
Where: Puhoi Sports Club, Puhoi, Auckland
Address: Puhoi Domain, Domain Rd, Puhoi, Auckland
From: 9:00am on Sunday 31st March 2019
To: 1:00pm on Sunday 31st March 2019