Piha and Muriwai Beach
Located northwest of Auckland, Piha and Muriwai Beach are favoured holiday and weekend destinations for Aucklanders. Piha and Muriwai Beach are stunning pieces of paradise boasting stunning black sand beaches ideal for surfing, swimming and sunbathing. Besides the picturesque scenery and magical beaches, Piha and Muriwai Beach attractions include a eye-popping ganet colony, horse riding, canyoning, stunning wild coastal hikes and wine tasting. more
Piha and Muriwai Beach accomodation includes a range of relaxing beach houses, holiday parks, bed and breakfasts, country lodges and other accommodation, ensuring you have a relaxing and tranquil gateway.
Take a moment to send an Auckland related E-Postcard to your friends.
Find By
What Do You Want To Do?
Where Do You Want To Go?
This New Zealand map does not display any listings on the map itself but may provide navigation by clicking on map symbol. Alternatively select a category or a region from the main links to find and view tourism businesses.
View 1 events near Auckland - Piha and Muriwai Beach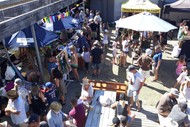 Twilight Christmas Market
Sun 2nd Dec 2018
Around 40 stalls of mostly local handmade Art and Craft in the beautiful setting of The Surf Club at Muriwai. Come and enjoy relaxed Christmas shopping, great live music and plenty of awesome Food Truck Options for ...
Where: Muriwai Surf Club, Muriwai Beach, Auckland
Address: Jack Butt Lane, Muriwai Beach, Auckland
From: 4:00pm on Sunday 2nd December 2018
To: 8:00pm on Sunday 2nd December 2018